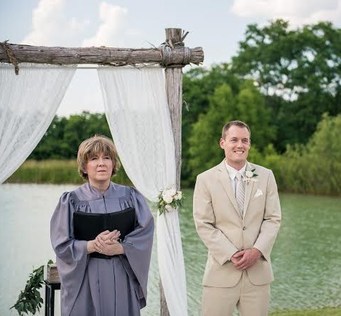 Any style - Any size wedding includes:
**All communication concerning the detailed planning of the ceremony via email or phone
**Coordinating with all ceremony vendors & other participants involved prior to the wedding
**Composing & performing the marriage ceremony
**Filing the marriage license with Probate Court


---
A retainer of $50 is required to hold your wedding date/time. It is subtracted from the total cost of services & is non-refundable. Credit or debit card may be used for the retainer.

Fees depend on a lot of factors; and are quoted individually. Information about your ceremony is needed before an exact price can be quoted. On average, I will spend approximately 10 hours plus travel on your wedding ceremony & rehearsal. That's a lot of time for "we only need you for 20 minutes". Location (travel distance) & whether your ceremony needs a rehearsal are some of the factors that determine the price.
Email Starla
513-253-9379 - call or text
or use the form below
​** Elope **
We make it simple!
Elopements & License Signing are cash only

** Monday thru Thursday **** License Signing or Elope **...................$75.00 - $175.00** Please see the Elope Here page **
​http://weddingvowsandpromises.com/elope-here.html

* You come to me elopement sites *
Choice of three (3)
Veterans Memorial Park, Fairfield,
Veterans Park, Hamilton,
​Butler County Courthouse, Hamilton
​(gazebo or inside before 3:30 pm)

​** Wedding ceremony only ** ........................... $200.00
This includes an in-person consultation.

​** Ceremony Coordination ** ......................... $125.00

​** Custom Built Ceremony ** ......................... $300.00
This is for those couples who want their love story told from the beginning to the wedding day.

​The information below will not be shared with or sold to any company or vendor
This is not a confirmation but a request to see if your date is available
In the comment box, please indicate which package you are interested in.
Travel Expenses
**Locations further than 22 mile (approx 30 minutes) from the 45015 zip code shall be charged $0.75 per mile to & from the wedding and to & from the rehearsal. The mileage & travel time are determined by Google Maps and/or Map Quest. All tolls are the responsibility of the client
**Travel expenses may include one or two nights hotel/motel stay (if the wedding & rehearsal are 50+ miles away)
**All travel expenses will be included in the total ceremony cost
**Lodging accommodations may be booked by the client


Lodging fees are required for any of the following circumstances:
a) The wedding is before 1:00 pm & 50+ miles away (for the night before).
b) The wedding is after 7:00 pm & 50+ miles away (for the wedding night).
c) The wedding is 50+ miles & a rehearsal is needed the night before the wedding.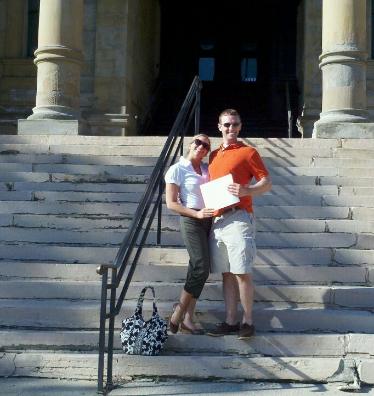 Ohio Marriage License Info
License prices vary from County to County
** If you are an Ohio resident you must obtain your marriage license in the county in which you reside/live. This allows you to be married anywhere in the state.
** If you are not an Ohio resident, you must get your marriage license in the county in which the wedding is to take place.
** No witnesses are needed for the marriage.
** No blood test or physical exam is required
** No waiting period to get the marriage license; no waiting period to get married.
** Marriage license is good for 60 days.
Butler County (Hamilton) - 513-887-3299
Hamilton County (Cincinnati) - 513-742-3589
Warren County (Lebanon) - 513-695-1771
Clermont County (Batavia) - 513-732-7243
Montgomery County (Dayton) - 937-225-4656
Preble County (Eaton) - 937-456-8160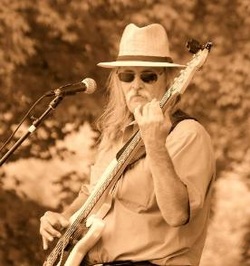 Guitar/ukulele/vocal -
trio
for your ceremony; band for your reception. If you hire us together for your ceremony, we have a deal for you!
The link below will take you to a friend's sound cloud account but you can still access the music. This is a live recording at the Silver Saddle Nightclub in Mt. Healthy Ohio
It isn't a very wedding-ish song, but you can, at least, hear he can carry a tune.
And he won't be playing the drums like he is here.
Done Enough Dyin'
---