Answers to FAQ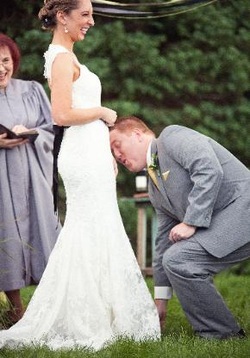 ** Weddings are very personal and joyous occasions to be shared by friends and family. However, when a couple has "celebrity" status, a wedding can become difficult when trying to avoid the media. I recognize & understand the
importance of confidentiality and provide such an agreement. It may be used in place of or in addition to any agreement the couple may wish to provide.




---
*** I perform spiritual, civil, interfaith or multicultural ceremonies; any
size, any style. I am ordained and licensed by the State of Ohio & legal to
perform wedding ceremonies in Kentucky, Indiana & W. Virginia...and Ohio*** The county in which you plan to be married can give you the exact information you need to obtain your marriage license. Click here for license info.*** You, the intended bride & groom need to apply in person for the marriage license at the marriage license bureau. I do not supply the marriage license.*** Only those who bring a valid marriage license in accordance with the Laws of Ohio or those of your state will have their marriage ceremony performed.*** If applicable, I efficiently conduct the rehearsal Tue-Thurs no more than a week before the wedding; only because I and/or the venue are usually scheduled for a wedding on Friday & Saturday nights. Friday afternoon rehearsals are also a consideration.*** To rehearse or not rehearse? The bigger or more formal (intricate) the event, the stronger it will be with a rehearsal.*** The retainer is nonrefundable. *** I use a contract
.
It protects us both.*** I come to you.*** Premarital counseling is not required. I do offer it; not as a psychologist but as a pastoral advisor.*** A reception or rehearsal dinner invitation is not necessary.*** I reserve the right for choosing whose ceremony I will perform, the type of wedding ceremony and also the ceremony site. Nor will I perform ceremonies in places requiring diving, caving, skydiving. There are many other officiants that can & will perform these types of ceremonies.*** Please think carefully before choosing a friend or relative to perform your ceremony. When the wedding officiant has experience in performing a marriage ceremony, the ceremony will be more professional, polished and even more meaningful than when an untrained friend or family member presides. The wedding minister/officiant, in addition to writing or creating a cohesive ceremony, because of their experience, helps the entire ceremony process to run smoothly and ensures an appropriately dignified experience. Also keep in mind that there are some states that do not recognize the "Joey" (of Friend's fame) approach to officiating.*** So what does an Officiant do?
Your officiant is a consummate professional without which there would be no marriage. It is the least expensive cost in a typical wedding, yet the only required part. Pastors, priests, J. P's, etc. collect a salary plus receive an honorarium; an independent officiant does not. Our fee is our income.
It takes an average of 10 hours of work per ceremony with the writing, the meeting, prompting of decisions needing to be made concerning vows, unity ceremony, readings and all the other elements a ceremony entails.Your officiant should be fairly flexible, enthusiastic; his experience should offer you a sense of trust and comfort.
Do you like the minister? Is his/her voice soothing, boring or sharp? Will his wedding attire fit your colors and ensemble? Are you comfortable with him? Is he amenable to change? Does he welcome questions? Does he give you choices? Will he work with other vendors? If you are already living together, will he still marry you or require you to move apart? Is premarital counseling a must? Have an idea of the type of person you wish to marry you.